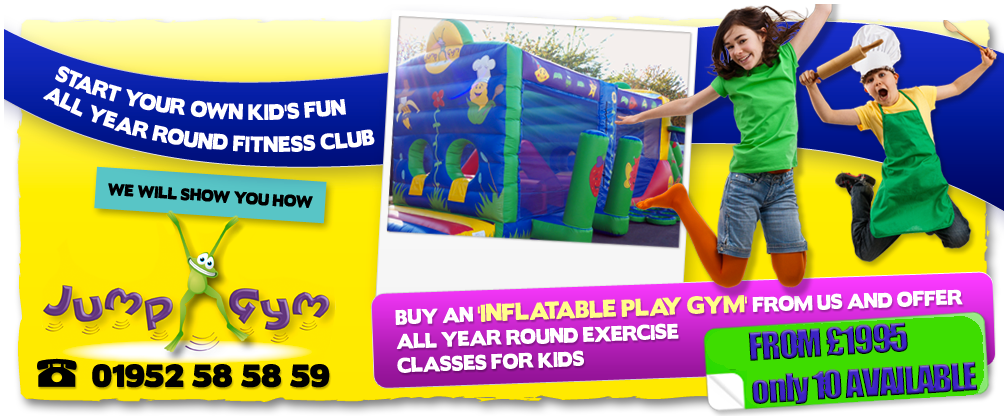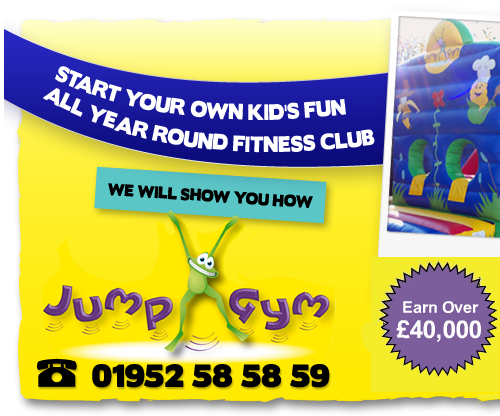 What is Jump Gym?
Jump Gym is a brand new modern, energetic fun way for kids to exercise. Our giant inflatable play equipment is used in stim- ulating sessions delivered locally at schools, nurseries, sports centres, community centres and village halls. There are 3 age range classes;
Jump Gym Pre-Schoolers (3-5 years pre school entry)
Jump Gym Juniors (6-8 years)
Jump Gym Seniors (9-11 years)
These sessions are run by inflatable play operators. The operators can be any individual or company who decides they want to work in this industry. They may already hire inflatable play equipment out for parties. Pineapple Leisure Ltd supply all the equipment and training and handle all the applications to become an operator as each operator has a designated area and they have exclusive rights to that area. Only one operator can offer Jump Gym in any particular area.
Jump Gym is designed to run in term time offering 12 sessions per week which equates to approximately £42,320 in income. Jump Gym holiday sessions can also be offered in the school holidays should the operators choose to do this. Therefore there is ample opportunity for operators to generate even more income if they wish.
What You Get ...
An innovative, sports inflatable with additional extra features in 2 parts for easier handling
Your own dedicated area that will not have any other operators in
Business Start Up Training, Advice and Guidance
Free entry on the Jump Gym database for your area
An immediate corporate look with professional logo and image
A Jump Gym Mascot with corporate music (available to purchase)
A full range of cute characters exclusive to Jump Gym operators
Access to the exercise class materials of menus, recipes and themed activities
Access to exclusive Jump Gym products
Advertising banner and A-Board (available to purchase)
2 x Jump Gym signwritten crash mats with printed Jump Gym warm up and cool down exercises
1 x Trolley
How it Works ...
You buy the inflatable from us and immediately have your own dedicated town - exclusive to you
We provide the business start up training, guidance and advice FREE!
This is your own business you can adapt it to your needs and your area, you can do as much or as little of the suggested business model that you wish
You get opportunities to increase your income as you get access to the complete Jump Gym range as a Jump Gym operator
When you buy now you pay the one off payment. Prices are rising in 2017 and there will be additional fees to pay to become an exclusive Jump Gym operator
About the Inflatable Gym...
The inflatable play gym is built to BS 14960. All electrical appliances (eg blowers where supplied) are CE certified.
We have spent thousands on research and development to bring you a priced right, super quality commercial inflatable gym, designed by customer focused, industry aware specialists.
Using 20oz British nylon based, double sided cloth which is treated against water penetration with a tough and flexible coating of Polyvinyl Chloride to both sides, and has physical properties tested to BS3424, and being tested to flame resistance BS 5438 Test 2A. Units are stitched with twin needle, industrial, modern machinery, with our craftsmen taking pride in the units they turn out. Commercial number 20, 3 ply, colour fast, Z-twist bonded nylon sewing thread is sewn, in double stitches, with quadruple stitching and webbing being used for tension points.
All artwork is created by hand by our award winning artists using only child friendly paints.
Your inflatable Gym has:
Been built to comply with PIPA
Quadruple Stitching
A 12 Month Warranty
An initial Safety Test Certificate
A 2 Year Warranty on any Fans
A full Operating Manual with Safety Checklists
Maintenance Logs