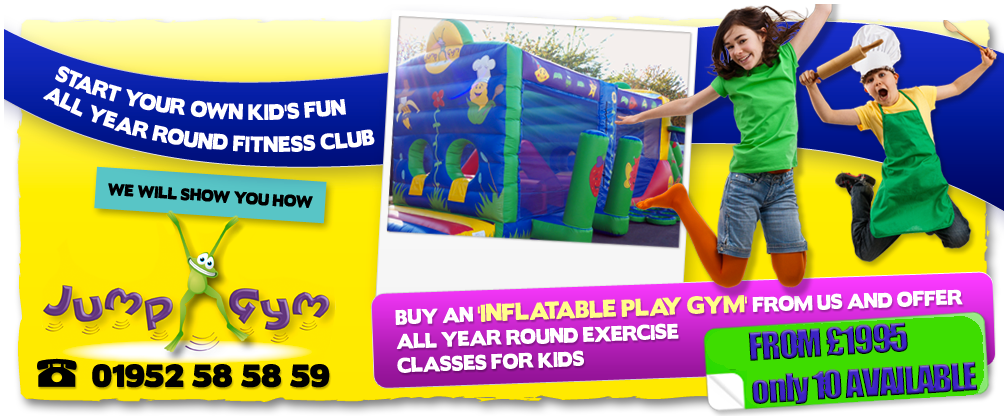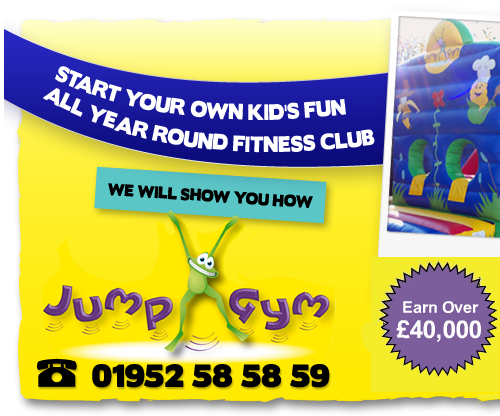 Below are Questions & Answers which will give you more information ...
Jump Gym has been designed to be easily run on a part time basis with NO EXPERIENCE NECESSARY, as training is given to you. Jump Gym is an enhanced version of a PAY & PLAY club in the operators own EXCLUSIVE AREA. Only one Jump Gym business is being sold in any one designated area so there is no competition.
Q: What is the play equipment that is used?
A: The Jump Gym play equipment is a specialist designed sports inflatable. With sports activities. At a later date additional inflatable sections can be purchased should this be required eg ball ponds.
Q: What are the dimensions of the inflatable when inflated?
A: There are different models of the Jump Gym Inflatables, depending on how much you invest in your Jump Gym business will depend on the size you buy. Please call or e-mail for sizes.
Q: Where are Jump Gym Sessions held?
A: Jump Gym sessions are held in school halls, sports centres, community centres, village halls, church halls and leisure centres. They can be held indoors and also outdoors in the summer which gives extra benefit for the children.
Q: How does the public find out about Jump Gym?
A: We give you an introductory letter to send to local schools in your area which introduces Jump Gym and all the benefits of Jump Gym directly to the Head of the school. There is an online campaign raising awareness directly to schools underway. Additionally there is going to be advertising in magazines, newspapers and at major supermarkets. We give you promotional literature copy to place at all of the halls, a banner to hang up outside the halls and a roller banner to put up in receptions/lobbys. Local advertisements and leaflets are good ideas to get the word out also. We supply a fun mascot which is great for getting out the Jump Gym name in your area.
Q: How do the children join Jump Gym?
A: There is a joining fee for the year which makes the child a member and this is £14.99 and they get a T-shirt and their Award Chart that they use each week. (We give you access to all of the Jump Gym products that you members can buy if they want to.)
Q: How is payment collected for the play sessions?
A: The sessions for the pay and play are £4.20 per child paid directly by the parent to you the operator in advance per term or half term (there are 12 weeks in each term so payment of 12 x £4.20 per session is given to the operator = £50.40 per child.
Q: Can I charge more or less than the suggested £4.20?
A: You can of course charge more if you have an area of higher earnings that can sustain a higher charge. Parents are always on the look out for "quality" activities for their children especially if they have added benefits as Jump Gym does. Jump Gym club is in a different league to play centres, it is a club with many physical and emotional benefits. If you feel your area needs a lower price, then you will still be able to earn a very decent income with massive benefits such as working for yourself, part time in a very nice, fun environment. If you do decide to charge less per session you could increase how much you earn by using the methods stating below ie offering additional sessions or holiday sessions to make up the extra income. Examples of different incomes on different pricing scales are: When in a high income area (ie West Sussex) charging £5.95 per session you can generate £57,120. When in a lower income area charging £2.99 per session you can generate £28,704. With low overheads (ie no business premises needed only venues to hire/get for free) and low costs operating in your home town. (Your advertising costs are low as you only need to target your own area.)
Q: How easy is it to run the sessions?
A: It is very straight forward. We supply all of the information and material you need. The information A-Board is central to all of the nutrition and healthy eating advice with competitions and activities etc. We give you all of the fun "receipes and sporty actions" that you put on the information board each week for the children. The warm up and cool downs are all printed with fun characters on the crash mats, all of been designed by personal fitness trainers so you don't have to have any specialist training as all of the work has been done for you. The product and session information range is constantly growing so you don't have to worry about doing any research or development as it is all done for you. FULL GUIDANCE IS GIVEN YOU DON'T NEED ANY EXPERIENCE.
Q: How many children in each session?
A: 20 children per session is the target. This is easily achieveable as the average class in the UK is 26 and there are multiple classes in each year group. So as you can see the target market is massive.
Q: How are the children kept entertained and exercised?
A: The sports inflatable has been specifically designed to be fun and engaging. There are 12 sports activities which ensure the body receives a comprehensive, cardiovascular workout. The fun characters have been designed to be interesting and quirky to the children and the receipes are designed to be fun and educational. The children are rewarded and encouraged to participate with their own rewards chart which we supply the copy of.
Q: How do I fit the sessions around my time to make my income?
A: The business model says to run 12 sessions a week to turn over over £40,000 at the target class size. It is totally up to you when you run the classes. We suggest you run 2 each day Monday through to Saturday. If you work in the week you can offer 6 sessions on a Saturday and 6 sessions on a Sunday. (If you already hire out inflatables you will need to plan your drop offs for before and after your Jump Gym sessions.
Q: I am interested in being an operator how do I know if this is for me?
A: Jump Gym is designed for people who want to earn extra money, either for their main income or for an additional part time income. Jump Gym is flexible and can be run around your lifestyle. Jump Gym has been designed to be simple for people to become operators and for them to have support when setting up and being in business. Operators can contact Pineapple Leisure for any advice or guidance at any time whilst they are Jump Gym operators.
Q: What about insurance?
A: Pineapple Leisure give you direct access to specialist insurance companies. Each time a child joins Jump Gym, a proportion of their joining fee contributes to the public liability costs.
Q: Will anyone else be able to offer Jump Gym classes in my area?
A: NO. Absolutely not! Once you are a Jump Gym operator you have exclusive rights to your area, no other Jump Gym operator can work in your area so you will never get any competition. That is our guarantee.
Q: How can I increase my earnings as a Jump Gym Operator?
A: There are several ways to do this as we have several purchase options:
OPTION 1. Jump Gym as above plus you sell the range of Jump Gym goodies direct to your members whereby you make a profit. The products are all exclusive Jump Gym products ie water bottles, cookery books, socks, hoodies, jogging bottoms, Jump Gym character toys, story books and puppets etc. WHICH WILL ENABLE YOU TO EARN IN EXCESS OF £45,000
OPTION 2. Jump Gym 1 + 4 Exercise Vibe Machines for parents. This option allows you to make the additional income in Option 1 plus income from 4 vibe machines charged at £3.55 per 10 minute vibration session. WHICH WILL ENABLE YOU TO EARN IN EXCESS OF £50,000
Inflatable Add-Ons - You are able to purchase an additional section for the Jump Gym sports inflatable. This is a ball pond unit at only £2495 with 4000 colourful balls. This will enable you to swap and change your sports inflatable around during the weeks to make it more fun for your children.
Q: What makes Jump Gym unique?
A: Jump Gym brings together inflatable play which is a PROVEN, sought after product that kids love with fun sports activities and advice on nutrition all in a stimulating class - which hasn't been done before.
Q: I am interested and I want to become a Jump Gym Operator, what do I do now?
A: 1) You can telephone us or e-mail us with your full address, we can then check if your area is still available. 2) So long as your area is available you can pay your £500 deposit that then secures the area for you. 3) The inflatable then goes into production and your training materials are put together for you. 4) You then receive your area confirmation letter and as soon as your inflatable is built (around 2 weeks) we call you to schedule the delivery date of all your goods. 5) As soon as you receive your goods you are ready to commence with your new business and can be up and running in a day!