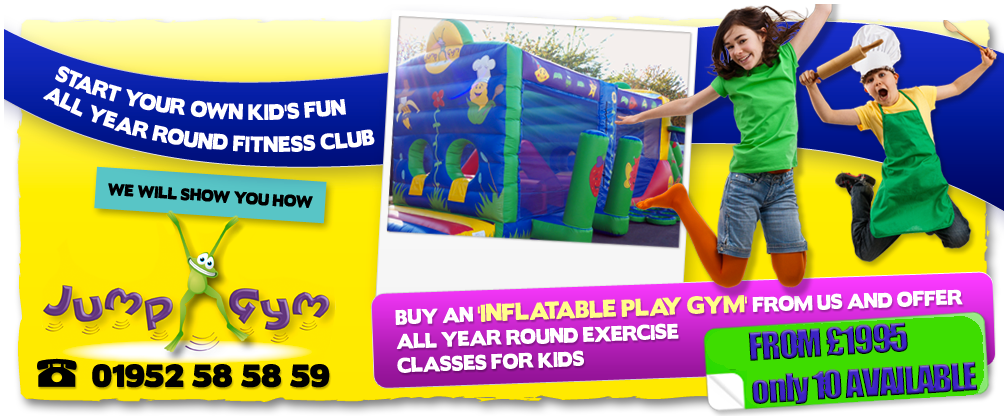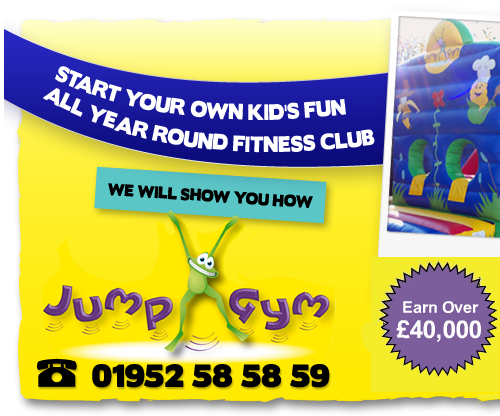 Some Comments from Operators and Staff ...
"Thanks so much for all your help, sorry for the constant questions, just getting a little nervous now the time is approaching fast!!
ps. As an advertising tool, we had jump gym at our daughters 5th birthday party for her whole class and had Francesca Frog handing out party bags and flyers, it went down so well, except the parents found it hard to drag the kids away!! Gave us a real boost though to see how much they loved it, it was a real hit. We really think this is going to be something big and are so excited to be part of it"! Gemma
"I was looking for something for children to run classes in which works well along side my other business... (I run a dance school)... I am passionate about health and fitness as qualified gym instructor and have a degree in sport science... business pack has been very useful thanks." Vicki
"I found the step by step plan for the lesson very informative and most helpful". Sharon
"We had our equipment out for the first time the other day for a test run and it is fantastic, a lot bigger than we expected, it filled our hall and looked very impressive, we can't wait to get started now". Gemma
"Have just logged on to the website and have gone through the themes and had a look at the different menus you signpost to and just to say these have been inspirational and will really enjoy putting these into the classes." Tina
Some Comments from Kids ...
"My favourite bit was the slide".
Amelia
"Wow it's so big".
Scott
"I really love all the pictures on the gym they are cute, I have drawn them at home".
Annie
"I like Francesca frog, she dances funny and makes me laugh".
Shannon
"The best part is the tyres, I try to run through them faster than Harry".
Josh
"Can't wait for next week because it is my birthday on Saturday and everyone gets a birthday card and has a special song on their birthday. I get to go first!"
Olivia
Some Comments from Parents ...
"I am interested in my 2 children joining a Jump Gym class because they love playing on bouncy castles and I know they will really enjoy this and will get a real good workout!"
Mrs Malsbury
"My sister told me about Jump Gym for my daughter to join, I have looked at the website and could you tell me when the next classes are being held. We are new to the area and this will be a great fun way for my daughter to meet new children and have a play".
Mrs Hayward
"Do you have a Jump Gym in Shrewsbury? I am looking for an After School club for my son, he's not interested in football etc but I have shown him your website and he is really looking forward to joining in".
Mrs Barrows
"My son was shattered this evening after his Jump Gym after school club, which means he must have had a good session. I am pleased he is getting to exercise, especially as it is dark when he finishes school at the moment, this club is ideal for him".
Mrs Green
"I just wanted to say thank you for your time on the telephone earlier. My daughter is so excited about getting to play on the Jump Gym for the first time, please give me a call as soon as the classes start in our village".
Ms Williams